custom bitsy fonts
A downloadable assortment of fonts
I made a custom font for my 5-Years-O-Bitsy jam entry, one thing led to another, and now I have 5-6 many fonts formatted to use in Bitsy games!
HUGE thanks to Sean for Fontsy, as I literally could not and would not have done all this work without it, and to Adam Le Doux for creating Bitsy in the first place. :3
If you make a game using one of these fonts, feel free to link to it in the comments! I'd love to see it :D
Specifications
Font name

Width and
height (px)

Spacing

Characters
ascii_small_corrected

6 x 8

Fixed

ASCII plus

DEMO_ONLY
8 x 8

Fixed
ASCII plus
determination_mono
8 x 14

Fixed
ASCII
determination_sans
8 x 14

Variable
ASCII
FRIENDS

8 x 11

Variable
ASCII
itsy_bitsy
8 x 9

Variable
ASCII plus
pico_eight
8 x 6

Variable
ASCII plus
rosalicious
9 x 15

Variable
ASCII
sandy_forest_narrow
8 x 11

Variable
ASCII
sandy_forest_spaced
9 x 11

Variable
ASCII
sir_clive_the_bold
10 x 11
Variable
ASCII
License Details
Determination by Haley Wakamatsu; available for use under the Attribution-NonCommercial-NoDerivatives 4.0 International license.
ascii_small (default Bitsy font) by Adam Le Doux; available for use under the MIT license.
DEMO ONLY and itsy bitsy by me; public domain.
FRIENDS by FONT; public domain.
monorosalicious (adapted into rosalicious) by mahoushoujorose; public domain
pico_eight by Lexaloffle Games; public domain.
Sandy Forest by Jay Wright; public domain.
Sir Clive the Bold by Giles Booth; public domain.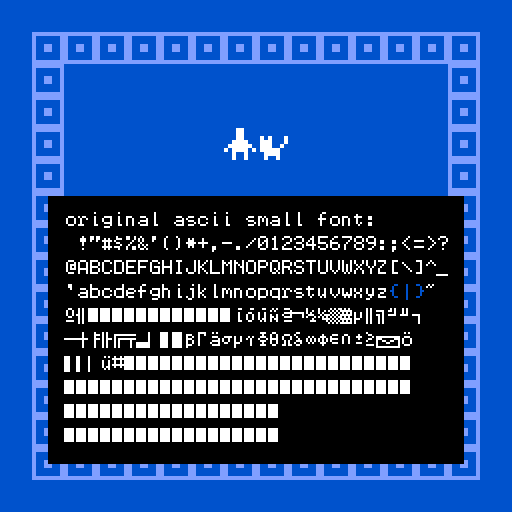 Download
Click download now to get access to the following files:
custom_bitsy_fonts.zip
18 kB
ascii_small_corrected.bitsyfont
18 kB
DEMO_ONLY.bitsyfont
14 kB
determination_mono.bitsyfont
13 kB
determination_sans.bitsyfont
12 kB
itsy_bitsy.bitsyfont
14 kB
pico_eight.bitsyfont
7 kB
rosalicious.bitsyfont
15 kB
sandy_forest_narrow.bitsyfont
9 kB
sandy_forest_spaced.bitsyfont
9 kB
sir_clive_the_bold.bitsyfont
12 kB